Call or visit us in Vernon, CA at
3152 Bandini Blvd.
Vernon Ca 90058.
(Inside Bandini Truck terminal)
(877) 290-5319 (323)260-7313

Truck Tire Audience:
• Owner Operators
• Trucking companies
• Waste Management Companies

• Concrete and Mixer Companies

• Fleet Operators

Nationwide Shipping
Proudly Serving all of Southern California "one flat at a time"Hours of Operation:
Monday – Friday, 7 a.m. – 6 p.m.
Saturday, 8 a.m. – 4 p.m.

Member:
Better Business Bureau

We Accept: Telechecks Comcheck & CarCareONE
Commercial Truck Tires & Truck tire Recapping

Keep your truck on the road with top-of-the line truck tires, including:
OHTSU, BRIDGESTONE, YOKOHAMA, COUGAR, GOODYEAR ,FALKEN & many more name brands. For many years, we have been the Los Angeles area's premier source for exceptional quality tires for big rigs and large trucks.

Call our commercial shop in Vernon California at
(877)290-5319 or (323)260-7313 for the best prices
on new tires,Recaps and used truck tires.
INTRODUCING THE NEW FUEL EFFICIENT FALKEN TRUCK TIRES
Click on the Tire Logos to visit the websites for information on sizes and models.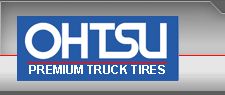 OHTSU Tires are made in Japan. Most of them come in
16 ply. It is our best seller!

Our Newest tires. A great alternative for fleets,looking
for an economical tire with the best warranty in the industry.
50% free replacement warranty (see brochure for details)
Road Pro casings are guaranteed through the second retread.